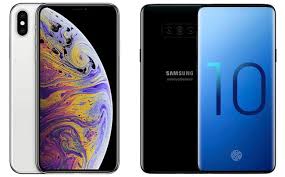 With Samsung's new Galaxy S10 and Apple's iPhone XS Max, the two companies continue to battle it out by producing comparable phones.
Price
A new trend in smartphones is their ever-increasing price tag: Samsung's Galaxy S10 Plus retails for $999 and Apple's iPhone XS Max retails for $1,099.
Camera
Both Samsung and Apple's models boast large screens- 6.4 inches and 6.5 inches, respectively. The S10 edges out the XS Max in camera quality, with a 16-MP ultrawide camera.
Audio
One benefit to the S10 that many consumers are happy to see is the headphone jack, compared to Apple's transition to eliminating the headphone jack from their newer phone models.
Build
The iPhone XS Max feels a bit sturdier that its Samsung counterpart, due in part to the durable glass screen and stainless-steel build.
While there are many other factors to consider before purchasing your newest phone, Samsung and Apple's newest releases show that smartphones continue to become more high-tech, more expensive, and full of continually evolving features.