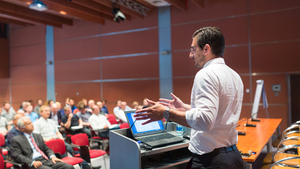 While many college students have jam-packed schedules, the same can be said for faculty and staff members. Between teaching lecturers and labs to hosting office hours and sitting through numerous meetings a week, college personnel are swamped with commitments and activities.
As we all know, technology is an integral part of everyday life for faculty and staff members. Laptops and tablets house teaching outlines, lecture notes, quizzes, and other important information used to successfully teach and help students succeed in the classroom.
If you were a professor, what would happen if a student was chatting with you after class and accidentally knocked your laptop on the ground, shattering the screen? Or what if you lent your iPad to a student during class for note-taking and it suddenly began malfunctioning?
Product protection coverage for these devices is just as necessary as it is for college students' devices. Safeware's Institutional Program is designed to protect faculty and staff's personal and institutional-owned devices used on college campuses. This program lets college employees use their devices with confidence throughout their day-to-day commitments.
Below is a testimonial from a college who offers Safeware's Institutional Program to their faculty and staff.
"The Institutional Safeware Program has proven to be a powerful yet simple solution to ensuring our customers have the protection and peace of mind they need for their devices. Institutional users cannot do their jobs without their devices, and department budgets cannot absorb too many costly repairs. Thanks to Safeware's ease-of-use and lack of extra fees, our users can feel secure knowing that any problems will be handled as quickly and efficiently as possible. We feel confident selling Safeware because we have seen how well the company takes care of our customers, and that means everything to us."