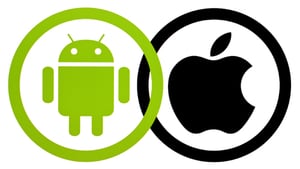 Android and Apple are consistently in a head-to-head battle to see who can produce the most advanced and desirable smartphone for modern consumers. While consumers look at things such as design, functionality, and features when considering what device to purchase, the security of these devices is not always considered. Let's take a further look at Android and Apple's security capabilities.
Android
Updates to Android's operating system have restricted the amount of information that apps can collect from customers. This allows users to customize what apps can access, such as their camera or their contacts. One of the biggest advancements has been the move of Android's security into Google Play Services. This means that updates can be performed despite the OS that users are running at the time.
Apple
Apple has great control over their operating system experience which means that a majority of users receive and install software and security updates. With a strict App Store vetting process, malware is typically prevented. Another benefit is the complex "Messages" platform (formally iMessage), that is heavily encrypted and tamper resistant.
No matter if you're team Apple or team Android in terms of security abilities, Safeware is proud to offer comprehensive product protection solutions to keep your devices safe from other forms of risks.